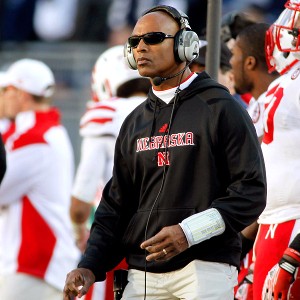 More on the Ron Brown's a flaming homophobe who has no place coaching, this time from Gene Wojciechowski on ESPN.com:
Let's say there is a gay running back on the Nebraska roster. And Ron Brown is his position coach.
Think about that for a moment. And then think about Brown's very public stance against homosexuality.
The Cornhuskers assistant coach recently testified in front of the Omaha (Neb.) City Council that gays, lesbians and transgender people shouldn't receive anti-discrimination protection under a proposed ordinance. He is considering testifying on May 7 in front of the Lincoln City Council, which will conduct a public hearing on proposed legislation that would prohibit discrimination on the basis of sexual orientation or gender identity.
None of this would matter if Brown were an ordinary citizen with an extraordinary belief in his interpretation of the Bible's position on homosexuality. That belief led him to compare the sponsors of the Omaha ordinance to Pontius Pilate and to tell The Associated Press "that based on the Bible, homosexuality, the lifestyle of homosexuality, is a sin."
But Brown isn't an ordinary citizen. He is a coach at a public university and for a revered football program whose reach stretches from Omaha to Scottsbluff. When he speaks, his words carry more power because of his association with Nebraska football.
It was no accident that when Brown spoke to the Omaha City Council he listed his address as Nebraska's Memorial Stadium. And there is no separation of church and state on Brown's Nebraska football office voice message:
"I praise the Lord Jesus Christ for today. I hope you're having a blessed day. Not able to answer my phone right now. Give me a try back and Lord willing, I'll get back to you as soon as possible. Have a great day."
Keep reading HERE.