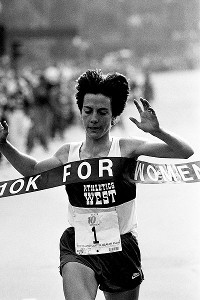 From ESPN.com:
BOSTON -- In 1979, an unknown 21-year-old sprite from Maine showed up in Hopkinton and bobbed her way to a Boston Marathon win. Afterward, clad in a Bowdoin College singlet and with a fresh laurel wreath sitting atop her Red Sox cap, the new American women's record-holder smiled widely for the cameras as running fans the world over peered at their programs and wondered: "Who?"
Thirty-three years later, everyone knows Joan Benoit Samuelson.
She won the Boston Marathon again in 1983, finishing in a world-record 2:22:43, and then over the next two years Samuelson grabbed gold at the 1984 Summer Olympics in Los Angeles and won the 1985 Chicago Marathon with a personal best of 2:21:21. Today, "Joanie" -- as she's known to the legion of fans and friends who surround her every time she appears in Boston to run -- is a certified running legend, a celebrity, practically the mayor of the Boston Marathon.
AP Photo/Jim MacMillan
When she decides to enter the race, as she has this spring for the second consecutive year, that alone is a noteworthy event. And when she runs it with her daughter, Abby, a 24-year-old Bates College graduate ("I tell everybody it could have been worse -- she could've gone to Colby," Samuelson says of her alma mater's rival school) in honor of women's rights, as she will on Monday, it becomes an opportunity to etch another indelible image onto an already historic career.
"Our plan is to run together on Monday and celebrate the fact that we can do this," says Samuelson. "This year is the 40th anniversary of women being allowed to run in the Boston Marathon and the 40th anniversary of Title IX [the 1972 U.S. anti-discrimination legislation that led to equal female participation in high school and college sports], so for me Monday's race is about being able to share those anniversaries with my daughter, who never had to deal with not being able to have access to sports."
Keep reading HERE.