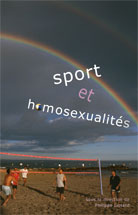 In conjunction with the 2006 FGG annual meeting, the FGG co-sponsored a two-day academic conference on "Sport, Identiy, Homosexuality, and Homophobia" in close collaboration with Philippe Liotard and the University of Lyon and the Centre for Research and Innovation in Sport (CRIS).
With participants from all over the world, papers were presented and discussed at the conference, the proceedings of which have since been published as
Sport et homosexualités
.
In 2011 the FGG was a partner for
a follow-up conference
held in Paris to examine progress made and challenges that remain.