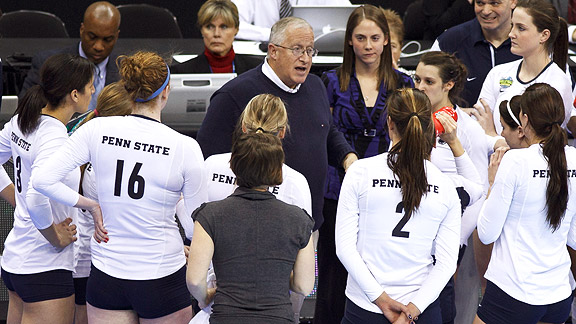 From an ESPNw profile of Pennsylvania State University women's volleyball coach Russ Rose, via Outsports:
"I'm different than a lot of other people. I'm not judgmental in any way on anything. People might avoid kids that don't look like they play well with others or have eating issues or sexuality issues. I don't care about those things. The world is made up of a lot of different groups. If you want to go somewhere and do something, you can do it here."
The best volleyball coach in the country applies his social conscience to his job. And it is clearly working. Think about it: What better way to enable female athletes to reach their full potential than to free them from the boundaries society has placed on them for so many generations? Why not give them a place where they don't have to answer to anyone about anything but their sport and their team? A place where being unique is encouraged and praised?
"I think you can only be your best when you're the most comfortable. If you have to live in a closet, life's really hard. You're alone. Life's tough enough when you have to interact with people. It's really tough if you have to do it alone."
Read in full HERE.