Gay Games VII opening ceremony, Soldier Field, Chicago, photo John Faier
At the end of 2006, the Federation of Gay Games could look back with pride and satisfaction to a successful seventh edition of the Gay Games in Chicago. Thanks to the energy, talent and commitment of the staff and volunteers of Chicago Games Inc., who put together a world-class event in only three years in the face of extraordinarily trying circumstances, the Gay Games maintained their promise of hosting the world's lesbian, gay, bi and trans athletes and artists every four years. Since Gay Games VII, many of these leaders have continued their involvement with the Gay Games movement, including service as board members and consultants for the FGG.
Restructuring
: But 2006 held much more in store for the Federation. On the heels of Gay Games VII, the FGG concluded a major transformation of its organisation and functioning. At its 2006 Annual Meeting in Lyon, France, FGG members voted to modify the Federation's bylaws to streamline operations and reduce the number of board members from some 60 to 20-25, and to create a new Assembly ready to welcome member organizations from around the world. The transformations have continued since 2006 as members and the worldwide community provide their feedback and suggestions for a continued evolution.
Conference
: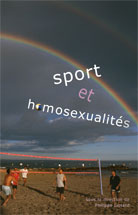 At the same annual meeting, coordinated by Manuel Picaud, the FGG co-sponsored a two-day academic conference on "Sport, Identiy, Homosexuality, and Homophobia" in close collaboration with Philippe Liotard and the University of Lyon and the Centre for Research and Innovation in Sport (CRIS).
With participants from all over the world, papers were presented and discussed at the conference, the proceedings of which have since been published as
Sport et homosexualités
.
Since 2006, FGG representatives have continued to be involved in panel discussions and seminars with groups around the world and Philippe Liotard remains a solid supporter of the Gay Games and LGBT sport.
2007
2008
2009
2010